Our SCOFF group meet fortnightly and this is led by Mr Azad, our Cooking Nutrition Teacher. Our Kitchen Manager Mrs Simpson also attends some meetings.  Meetings take place in our state of the art kitchen. One child from each class in KS2 represents their class and puts forward opinions, suggestions, points of view and feedbacks to the other SCOFF members.
Each SCOFF member has an allocated role and these are altered termly to ensure the children have the opportunity to be responsible for different areas.
Some of the discussions the children have been involved in are:
How the school dinners could be improved?
The effectiveness of lunchtime monitors?
Lunchtime routines
Food wastage at dinner times and how this can be tackled?
What the different classes would like to cook or bake in the Cooking and Nutrition lessons?
Fundraising for Red Nose Day
Cooking for Pancake Day
Ideas for food stalls at the Summer Fayre
Portions of school dinners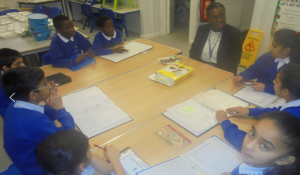 Our SCOFF Representatives for 2018-2019 are:
3A – Sameera Nasiri
3B – Suhaib Ahmed
4A – Tawana Machisa
4B – Asma Asmaoul
5A – Faraaz Khan
5B – Zara Aftab
6A – Safaa Mujahid
6B – Momena Mahmood
If you have any suggestions and ideas for the future meetings, please do let your SCOFF representative know.